Pick your experience and start dreaming
The Vendue
9AM
Waking up is a gift.
Shake off the good sleep. Caffeine in the room with a robe that pairs nicely. And we'll have breakfast pastries delivered at whatever time you prefer. Morning person or not, you're about to wake up happy.
View The Rooms
Yawn. Stretch.
Hot shower and hot coffee; preferably at the same time. It starts things right. A bag of breakfast treats just for me. Oh my god, this croissant is sinful. These people are good. Damn good.
10AM
Awake. Let's explore.
Up and at 'em. Get ready for Charleston's magic. Historically rich, visually stirring, laden with stories, and absolutely refreshing. All within your grasp. Go on. Paint the town red.
I hopped on one of those shiny red bikes and within a few pedals found myself at Rainbow Row, I think. The houses here are candy-colored. These trees are ancient giants. Cobblestone streets and ocean air. I like it here.
We kept hearing about this iconic rooftop bar; the "stuff of legends" type talk. Being ever curious, we headed up. Immediately smitten with the views, we drank in the sun with zero regrets.
4PM
Art tours & wine
We offer many amenities here at The Vendue… but we thought we'd throw in an extra 200 at no charge. We have the views. You bring the perspective. Join the daily hotel art tour. We even drizzle in a little vino for good measure.
Views on us
The art has me in its clutches. I find myself wanting more. We join the hotel's art tour with wine in hand. I let their docent lead the charge. Down the rabbit hole. I get lost amongst the art.
Still reeling from the delight of the last few hours, we were somehow starving for more. Dinner was the perfect fix. The duck or the fresh catch? What's the story with these "forbidden black rice grits?"

Now I'm curious.
9PM
What's in a nightcap?
It's time to wind down. Call it a day and toast to its goodness. Milk & cookies? See us in the lobby after sunset. Cocktails and good fun? See us on the rooftop. Just have a great night.
Back to the roof
Nightcap on the roof or milk and cookies? If I were a better person, I'd go cookies, but sipping a Manhattan with those views? Guilty. Unapologetically so. And who knows what good trouble I might find. Hopefully a little.
Start dreaming at the best art hotel in Charleston.
The Enclave
9AM
Rise to Your Exclusive Escape
Embrace the new day in your secluded sanctuary. Robe-clad with espresso from the lobby, and your preferred breakfast pastries delivered at your leisure. No matter when your morning starts, it will start blissfully.
Discover Our Rooms
I breathe in the tranquility. Savoring espresso from the lobby, a warm pastry. This is morning done right. I feel catered to, special. This experience is sheer indulgence.
10AM
Discover Charleston's Charm
All set for a day of discovery. Charleston's enchanting blend of historical richness, architectural beauty, and captivating tales is yours to explore. It's a colorful masterpiece awaiting your touch.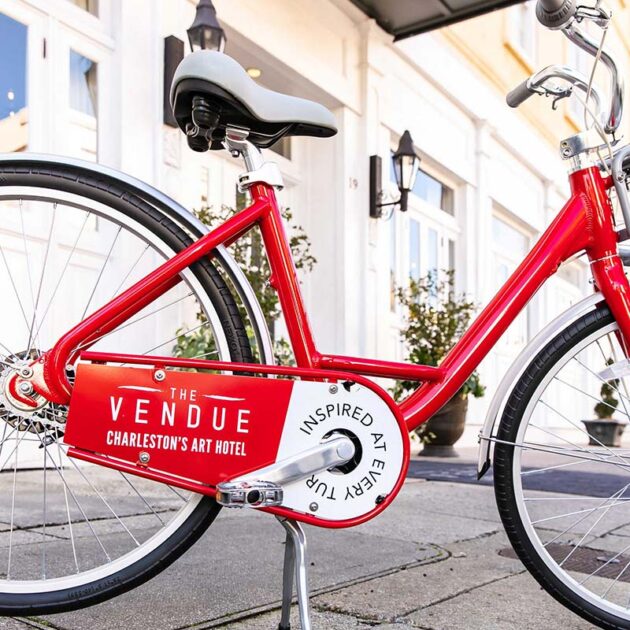 I grab a chilled bottle of water and a handful of sweets. Their bikes took me on a journey, past candy-colored houses, beneath towering trees, over cobblestone streets. This city isn't just a place, it's a kaleidoscope of history and wonder.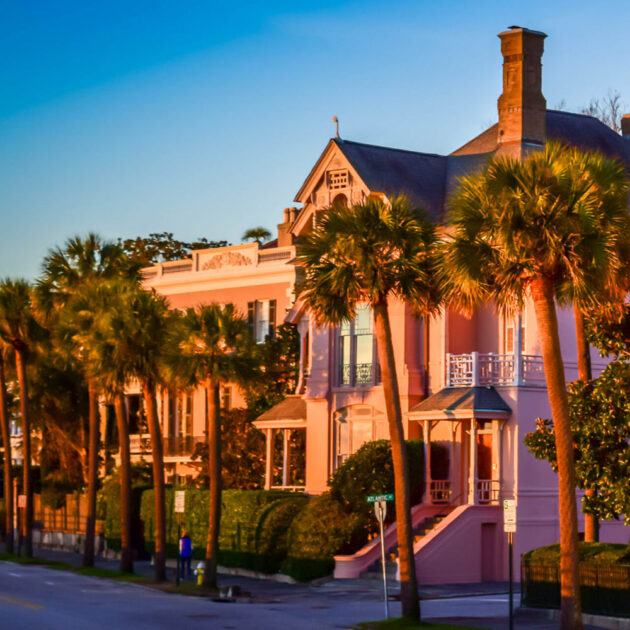 12PM
Lunch : Your Rooftop Rendezvous
The Rooftop beckons. Take is slow. Relish the views. Savor a cocktail, delight in a perfectly crafted meal. Relaxed sophistication fuels your next chapter of exploration.
Ascend to the rooftop
We rose above the city, a landscape of beauty before us. The sun, the breeze, the laughter. I took a sip, tasted perfection. I could get used to this.
5PM
Uncover Artistic Treasures
The Enclave offers not just an exclusive retreat, but an artistic immersion. Traverse our curated collection with a complimentary art tour and a touch of vino. An afternoon of aesthetic delight.
Experience Artful Serenity
Art whispers stories around every corner. I let the docent guide my curiosity, a glass of wine in hand. Im drawn into a world of color and emotion. I feel enriched.
7PM
Savor the Evening Elegance
Dine at Revival, where culinary artistry meets local charm. Whatever tempts your palate, our chefs are eager to impress. Prepare for a night of gastronomic pleasure.
Dine in Elegance
Dinner, a symphony of flavors. Fresh catch or the signature duck, every bite is an experience. I feel the joy of discovery, of savoring. This is a feast for the senses.
9PM
Toast to the Night Sky
Conclude your day with a serene note. Milk & cookies or a handcrafted cocktail on the rooftop under the starlit Charleston sky. Here's to the day well-lived.
Relish Your Nightcap
I gaze at the night sky, cocktail in hand. The city sleeps beneath the stars, and I toast to the day. There's a magic here that feels exclusively mine.
Start dreaming at the best art hotel in Charleston.
Worth Noting
Keep exploring. There's more to discover.
Featured at The Vendue – Charleston's Art Hotel.