Local Hotel & Artists Donate $15,000 to Charleston Animal Society
The Director of Art at The Vendue, Emily Rigsby, and Robert Lange Studios collaborate throughout the year to curate two to three rotating art exhibits in the public areas of the hotel, located at 19 Vendue Range. The most recent exhibit featured various works from forty artists from around the world dominated by the theme "cat" or "dog" based on whether they identify as a "cat person" or a "dog person" in a tongue-in-cheek competition to finally determine the better species.
From the beginning a decision was made to donate a portion of all sales from the exhibit to the Charleston Animal Society and The Vendue would match the donation dollar for dollar. Not only was this to help raise awareness for their important work within our community, but to help further their efforts, stated Emily Rigsby, The Vendue's Art Director. Jonathan Weitz, President & CEO of The Vendue's ownership group, Avocet Hospitality, went on to say, We could not be more proud of Emily. She is the one who approached us with the idea to partner with Charleston Animal Society and match the proceeds from art sold, even though the hotel does not profit from any of the exhibit sales. Her charitable characteristics exude the core values of Avocet Hospitality Group.
A percentage of the art sold in "Cats versus Dogs" exhibition, totaled $7,051, which The Vendue agreed to match. At the last minute, Jon Weitz then challenged Robert and Megan Lange to raise the contribution to $7,500 each, which made the total donation an even $15,000.
Art and philanthropy go hand in hand. There is an abundance of joy when you know an exhibit of fantastic artists will help fuel a heartwarming cause. We've known Kay Hyman and her incredible dedication to animals for many years; I can think of no greater cause to begin the philanthropic side to The Vendue's art program, said Robert Lange, artist and owner of Robert Lange Studios.
We are extremely grateful to The Vendue, Robert Lange Studios and the amazing artists who were part of the "Cats versus Dogs". Their donation comes at an extremely important time, because Charleston Animal Society just returned from deploying our veterinarians and cruelty investigator to assist the U.S. Marshals, the FBI, Columbia area law enforcement and the ASPCA in investigating a Midlands dog fighting ring that rescued more than 30 dogs. Without our business partnerships and support of our community, we would not be able to save so many animals, stated Joe Elmore, Charleston Animal Society CEO.
The exhibit "Cats versus Dogs" will come to a close next week, as The Vendue prepares for their new exhibit "Recipe", which opens Thursday, April 19. The new exhibit will feature 30 artists expressing palate through palette.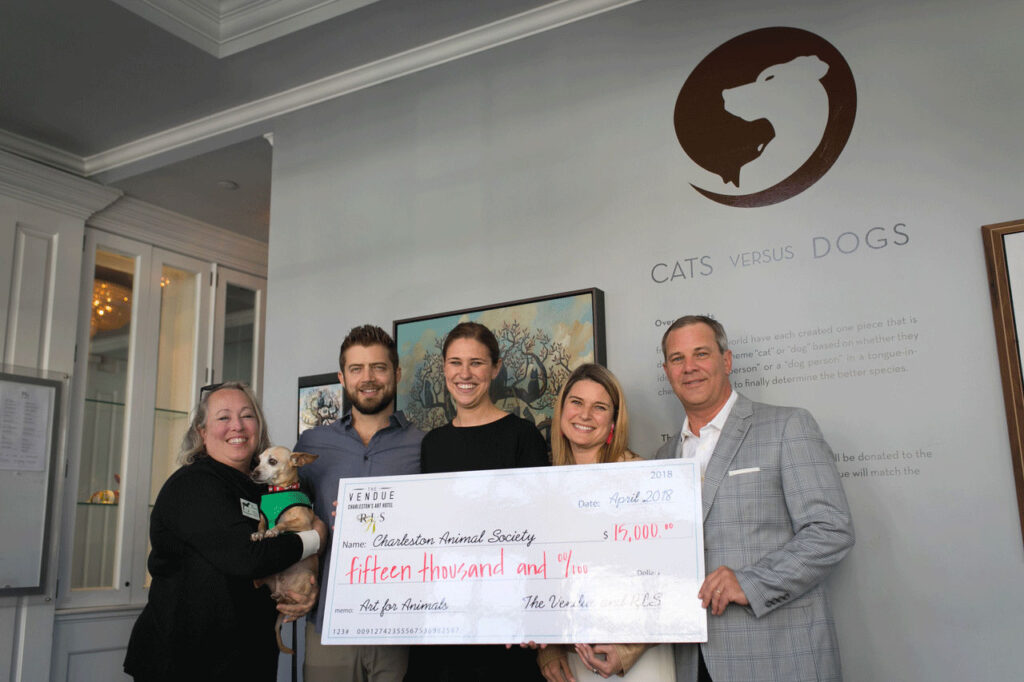 Worth Noting
Keep exploring. There's more to discover.
Featured at The Vendue – Charleston's Art Hotel.